Chair by vallon® - Details
The chair by Vallon : Details
As world leader of stretched ceiling systems, Barrisol Normalu continues to provide an innovative approach to answer the architects and designers needs. Barrisol® Le Fauteuil by Vallon, is a new and totally customisable chair, created with the designer Joel Vallon.
You can choose the colour of the structure, the colour and finish of the seat (leather or fabric), and the finish of the 3 Barrisol frames that create the chair. Additionally images or photos can be printed onto the Barrisol frames to create a completely personnalised chair.
Video presentation
Create your personnalised chair
Choose your colours :
of the frame
of the seat (leather or fabric)
Choose your images

for the 3 printable frames.
Photos, patterns.. it's your choice.
Lighting
It is available with a fixed White or Colour changing illumination thanks to a specific LEDs lighting system.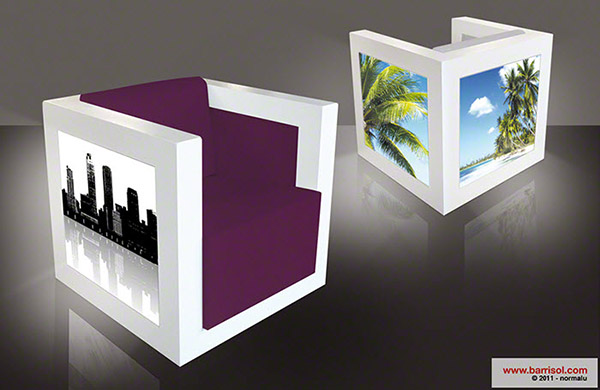 See photos of the Barrisol Chair by Vallon®